6th & 7th August 2022 STOCK GAYLARD, STURMINSTER NEWTON

It's going to be a scorcher - the 11th Great Dorset Chilli Festival
Plans for 2022 are for a weekend-long chilli-con-carne cook-off, run by the UK Chilli Cook-off Association, open to pre-registered teams to battle it out for the the title of 2022 UK Chilli Masters.. We'll have the chilli plant growing competition on the Saturday, talks on growing chilli plants, cooking with chilli demonstrations, and of course the chilli eating competitions on both days. This is sure to be a great day out for chilli enthusiasts, food lovers and families. So if you enjoy the sensation of steam coming out of your ears then this is the Chilli Festival for you! We have some of the country's most respected chilli companies showcasing their plants, seeds and condiments; chutneys, hot sauces, chilli chocolate, relishes, pickles and oils.
Speak to the experts and discover how to cook with chillies and which chillies to use that won't blow your head off. The stallholders all love chillies and will be only too pleased to talk to you.
BUT if you don't like it hot there's plenty of choice from the stallholders for the less robust palette. Artisan bakers, cheeses, brownies, jams, olives, herbs, garlic, Dorset ice cream, wooden chopping boards and smart kitchen knives for chilli-chopping, , ethnic clothes and bags, chilli-themed ceramics, beautiful artwork, leatherwork, jewellery...... .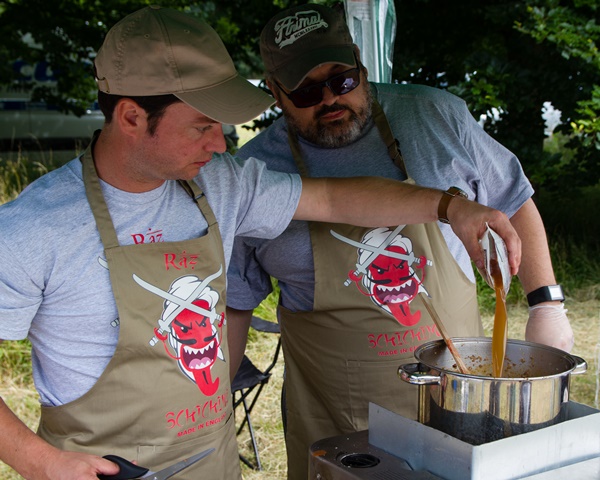 Chilli Cook-Off
We are hosting a special event, organised by the UK Chilli Cook-off Assocaition. The UKCCA Grand Masters cookoff will show-case the best chilli teams in the country in a weekend-long event that truly determined who is the best chilli chef in the UK. On the Saturday, teams will be asked to cook a "chilli verde", which is a green pork, chicken or vegetable chilli. The chilli verde will be judged by the public as well as the main judging team. On Sunday, teams will cook the traditional red chilli which again will be judged by the public as well as the main judging team. The team with the highest score over the weekend will crowned the 2022 UK Chilli Masters and win a prize pot of £1000.
.
Festival visitors will be able to buy a spoon for charity to sample all the entries! Limited number of spoons available, so be sure to visit the cook-off area as soon as you arrive to secure your spoon!

If you would like some more information or would like to enter the cookoff, please contact Jon at ukchillicookoff@gmail.com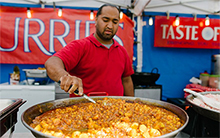 Delicious things to eat and drink
We'll have great street food, Thai curries, Caribbean curries, Indian curry, low 'n' slow pulled pork, lamb burgers, chilli burgers, garlic prawns, crêpes, bratwurst, lots of food with/without chilli will all be on offer but if it's simply a delicious burger that you crave then you'll be well-catered for. There will selection of award-winning local beers, ales and cider to calm the tingling tongue. We'll even have chilli cider, but if all you need is ice cold lager, we've got that too.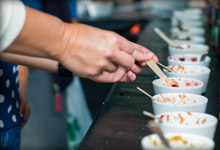 Chilli Sauce Competition
This was cancelled in 2021 due to Covid risk. We usually hold a chilli sauce competition, giving you the a chance to taste artisan chilli sauces, chutneys and jams made by the stall holders themselves, and to vote for your favourites. If we can find a safe way to hold the competition, we will bring it back as it is always so popular.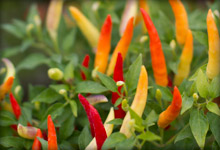 Chilli Plant Competition
Open to anyone who grows their own chillies for pleasure, a chance to show off your best plant to a panel of expert judges. There are two classes this year, Class 1 is for the Santa Fe Grande variety, buy your seeds from Simpsons Seeds or Sea Spring Seeds. Class 2, for any variety, pot grown in the 2022 growing season. To enter contestants just need to bring their plant with them to the Festival on SATURDAY 6th August. PLEASE READ THE RULES BEFORE YOU ENTER!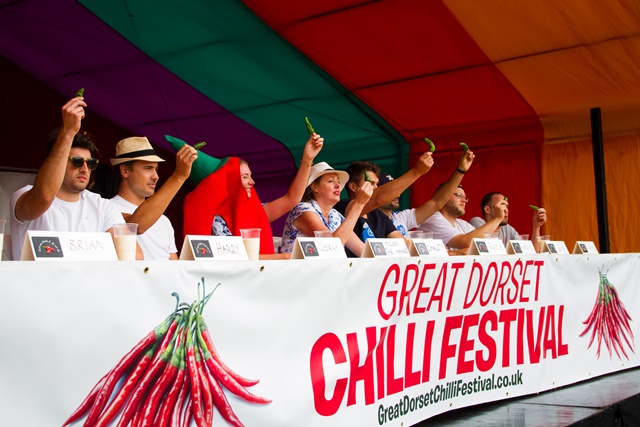 Chilli Eating Competitions
A highlight of the day, we'll hold a chilli eating competition at 4.00pm each day. Crazy contestants are invited to apply by email to us 2 weeks before the event. Contestants must enter themselves; you are not permitted to enter on someone else's behalf. You can download the entry form here.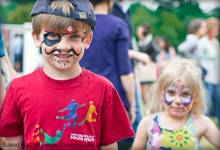 Children
Not all the food and samples at the Festival will be chillified, amd there will be plenty of choice when it comes to lunch. There will also be bouncy castles, Head Turners Face Painters, Mere Down Falconry, and land trains .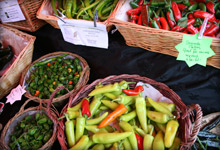 .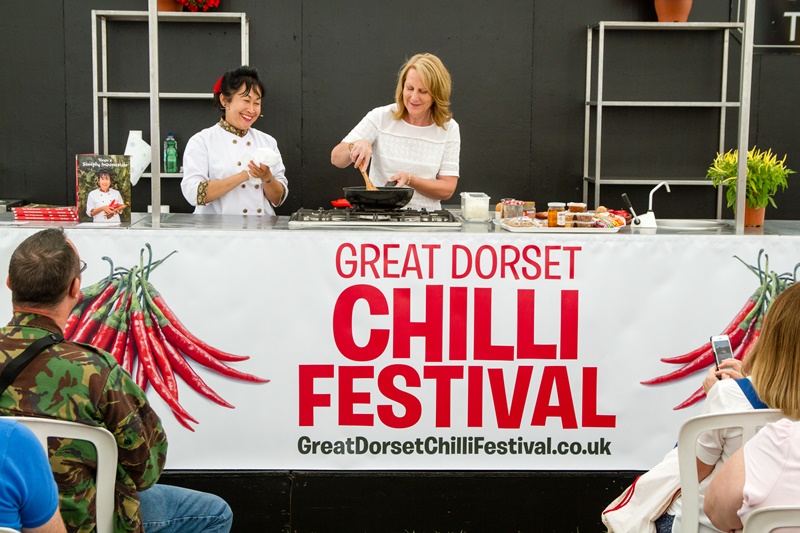 Talks and Cooking Demonstrations
Top local chefs will be in our demonstration tent showing you easy but delicicious recipes, involving chilli of course. Plus get tip from the experts on growing chilli plants in our live experts sessions.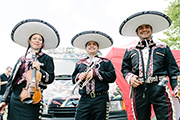 Music
This is a specialist food festival, not a music festival! But if you like a bit of music in the background we have some great acts, to be confirmed. Of course we have the famous Mexican Mariachi trio, guaranteed to put a smile on your face, and Big Joe Bone playing his blues/roots/bluegrass beside the cider tent all weekend.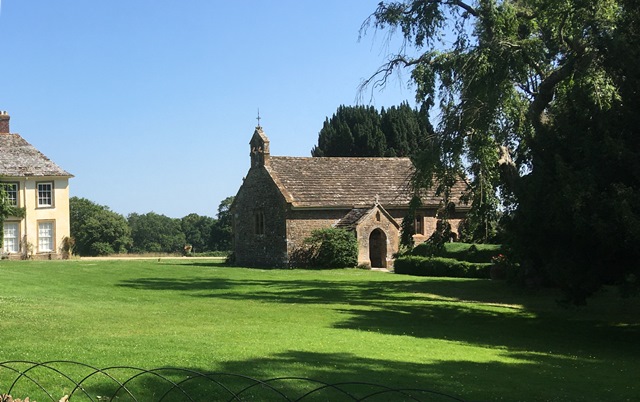 Concerts in The Church
If you need some time out from the hustle and bustle, head over to the St Barnabas Church beside Stock Gaylard House. It dates from the 12th century and is still used for regular services. On Saturday 6th August there will be some informal concerts (classical guitar and flute) with voluntary donations to raise money for the Red Cross in Ukraine. Performance times: 10.30am, 11.30am, 1.30pm & 2.30pm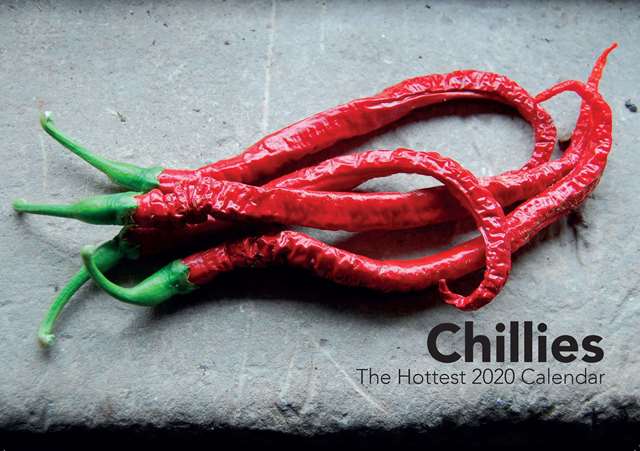 Frequently asked questions:

When does the festival open and close?
Gates usually open at 10am on both days with last entry at 4.30pm. Please follow festival road signs that will direct you to the festival car parks.
Can I bring my dog to the festival?
Yes, friendly dogs and responsible owners are welcome.
Can I pay by credit or debit card at the festival?
YES, YES, YES!!!!!!!!! We have a mobile signal at Stock Gaylard!!!
Is camping available?
There's currently no camping available for the visitors, but there is camping at www.littlerodmore.co.uk which is walking distance.
Is there disabled parking?
Yes disabled parking is available.
Are there disabled facilities?
Yes we provide disabled toilet facilities.

Is there a reduced rate for disabled people?
The Great Dorset Chilli Festival does not wish to discriminate against visitors with disabilities therefore the full admission rate will be charged.
Can I grow chilli plants in May?
Chilli seeds are best planted in January or February, but you can plant them as late as March and April. They take a while to become established, but chilli plants like warm weather and good sunlight. If you want to sow seeds now in May the plant will grow, but will be reaching maturity later in the summer. If we have a sunny September you will get fruit, but as the days get cooler and shorter consider bringing your chilli plant inside.
Is the Dorset Chilli Festival going ahead this year?
We are planning to run the Great Dorset Chilli Festival on 6th & 7th August 2022



Programme Of Events
SAMPLE EVENT PROGRAMME
Saturday
10:00
Festival Opens: Entries for the Chilli Plant Competition
11:15
Old Baby Mackerel: Foot Stomping Bluegrass in the Music Tent
11:30
Chilli Cook-off starts: chile verde cooking commences in the Cook- Off Zone
12:00
Why Does Chilli Make Your Tongue Tingle? The Clifton Chilli Club : Talk Tent
12:00
Old Baby Mackerel: Foot Stomping Bluegrass in the Music Tent
13:15
Growing Super-Hot Chillies by Matt Simpson, Simpson's Seeds: Talk Tent
13:45
Quinns Quinney: Dorset Skiffle in the Music Tent
14:30
Falconry Flying Display: Beyond the Oak Avenue
15:00
Quinns Quinney: Dorset Skiffle in the Music Tent
Pairing Chilli with Drinks The Clifton Chilli Club: Talk Tent
15:30
Chilli Plant Competition Judging commences
Chilli Cook-Off: Spoons at the ready! Let the judging commence! Results at 16:00
16:00
Chilli Plant Competition Winners Announced
Chilli Eating Contest Come down to the Music Tent
Sunday
10:00
Gates Open
11:15
Hélélé in the Music Tent

11:30
Chilli cook-off competition begins: Traditional red chilli in the Cook-Off Zone
12:30
Cooking demo: Mark Hartstone of La Fosse

12:30
Quinns Quinney: Dorset Skiffle in the Music Tent.

13:15
Medicinal properties of Chillies: Dr Tim Woodman
13:45
Hélélé in the Music Tent

14:00
Cooking demo: Sarah Ali Choudhury - easy Indian cookery in the Talk Tent
14:30
Falconry Flying Display : beyond the Oak avenue
15:00
Quinns Quinney: Dorset Skiffle in the Music Tent
Top Ten Tips For Growing Chillies: Matt Simpson in the Talk Tent
15:30
Chilli Cook-Off: Spoons at the ready! Let the judging commence! Results at 16:00
16:00
Chilli Eating Contest: Come down to the Music Tent
Please note that final programme is subject to change.