3rd & 4th August 2019, St Giles House, Wimborne St Giles, Dorset, BH21 5ND

It's going to be a scorcher - the 9th Great Dorset Chilli Festival
We're delighted to be back at St Giles Park for another scorcher of a weekend in 2019. We're back to our usual dates of the first weekend in August. This year we have a weekend-long chilli-con-carne cook-off, run by the UK Chilli Cook-off Association, open to pre-registered teams to battle it out for the the title of 2019 UK Chilli Masters and a prize pot of £1000. We've got chilli plant growing competitions, chilli pepper growing competitions, and chilli sauce competitions too! This is sure to be a great day out for chilli enthusiasts, food lovers and families. So if you enjoy the sensation of steam coming out of your ears then this is the Chilli Festival for you! We have some of the country's most respected chilli companies showcasing their plants, seeds and condiments; chutneys, hot sauces, chilli chocolate, relishes, pickles and oils.
Speak to the experts and discover how to cook with chillies and which chillies to use that won't blow your head off. The stallholders all love chillies and will be only too pleased to talk to you.
BUT if you don't like it hot there's plenty of choice from the stallholders for the less robust palette. Artisan bakers, cheeses, brownies, jams, garlic, Spanish charcuterie, Somerset charcuterie, chilli ginger beer, Dorset ice cream, wooden boards and smart kitchen knives for chilli-chopping, ironwork, ethnic clothes and bags, ceramics, gin and jewellery......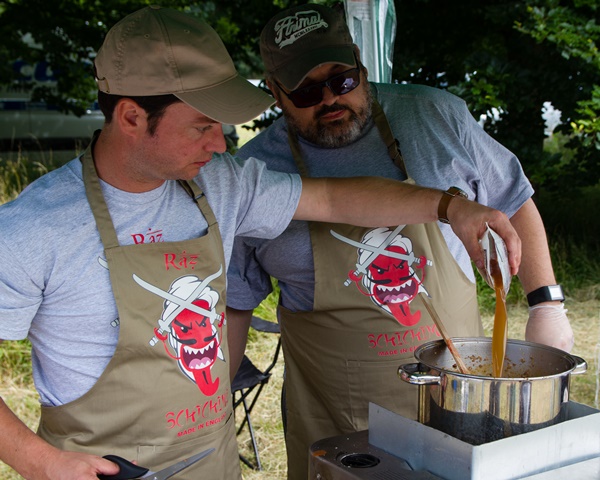 Chilli Cook-Off
The Great Dorset Chilli Festival will be hosting a very special event this year, organised by the UK Chilli Cookoff Assocaition. The UKCCA Grand Masters cookoff will be showcasing the best chilli teams in the country in a weekend-long event that will truly determine who is the best chilli chef in the UK. On the Saturday, teams will be asked to cook a "chilli verde", which is a green pork, chicken or vegetable chilli. The chilli verde will be judged by the public as well as the main judging team. After the chilli verde round, teams will be asked to come up with a unique dish that showcases the team's cooking and presentation skills in the "Chef's Choice" category. On Sunday, teams will be cooking the traditional red chilli which again will be judged by the public as well as the main judging team. The team with the highest score over the weekend will be crowned the 2019 UK Chilli Masters and a prize pot of £1000
Festival visitors can buy a spoon for charity to sample all the entries! Limited number of spoons available!
If you would like some more information or would like to enter the cookoff, please contact jon.doody@ukchillicookoff.co.uk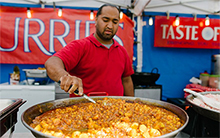 Delicious things to eat and drink
We've great street food, Thai curries, Caribbean curries, Indian curry, , falafels, low 'n' slow pulled pork, lamb burgers, chilli burgers, seafood, crêpes, bratwurst, lots of food with/without chilli and giant paellas will all be on offer but if it's simply a delicious burger or wood fired pizza that you crave then you'll be well-catered for. There will selection of award-winning local beers, ales and cider to calm the tingling tongue. We'll even have chilli cider, but if all you need is ice cold lager, we've got that too.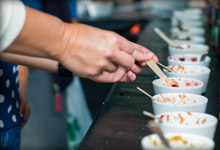 Best Sauce Competition
Make your vote count! A chance to taste artisan chilli sauces, chutneys and jams made by the stall holders themselves. Vote for your favourite. It's sauces on Saturday, chutneys and jams on Sunday.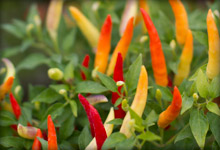 Chilli Plant & Pepper Competitions
Open to anyone who grows their own chillies for pleasure, a chance to show off your best plants to a panel of expert judges. Saturday only. Sponsored by Stewarts Garden Centres, Simpson's Seeds and Sea Spring Seeds. There are 3 classes: Class 1 will be open to plants of the one variety (the 2019 variety is "Spike") so everyone starts with an even playing field. Class 2 is an open class, for any variety, pot grown in the 2019 growing season. Class 3 is just for fun, it's for the heaviest yielding plant grown in an 8cm pot. To enter bring your plant along on Saturday before 2pm. Judging will start at 3.30pm. .
Open to everyone, whether you grow chillies at home or commercially, we've got a category to suit most chillies!
Class 1: Plant: Capsicum annuum "Spike" chilli plant (£50 voucher for 1st, rosettes 1st, 2nd & 3rd)
Class 2: Plant: any variety chilli plant (£50 voucher for 1st, rosettes 1st, 2nd and 3rd)
Class 3: Plant: heaviest yielding chilli plant grown in an 8cm pot (rosette for 1st place)
Class 4: Fruit: Longest cayenne (rosette for 1st place)
Class 5: Fruit: Best superhot chilli (rosette for 1st place)
Class 6: Fruit: Most interesting oddity/malformation (rosette for 1st place)
Class 7: Fruit: Heaviest pepper (including sweet peppers) (rosette for 1st place)

Chilli Plant & Pepper Competition Rules
Chilli Eating Competitions
Not for the fainthearted but too much fun to miss out on! The competition is on both Saturday and Sunday at 4.00pm on the music stage. This year the competition are being run by the Clifton Chilli Club. www.cliftonchilliclub.com . To enter complete and return the application form to us.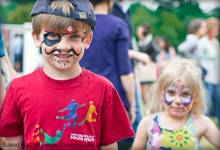 Children
Not all the food and samples at the Festival will be chillified, so there will be plenty of choice when it comes to lunch. There will also be bouncy castles, Head Turners Face Painters, Mere Down Falconry, painting and Alfredo's Pirates. There is also a family shelter tent where you can find some shelter to have lunch or create a base for your family to meet up.

Plant / Shopping Crèche
If you've bought a chilli plant or two, or restocked your supply of great chilli sauces, why not take advantage of our Shopping Crèche? Look out for the crèche gazebo where you can leave your purchases safely in exchange for a small charitable donation.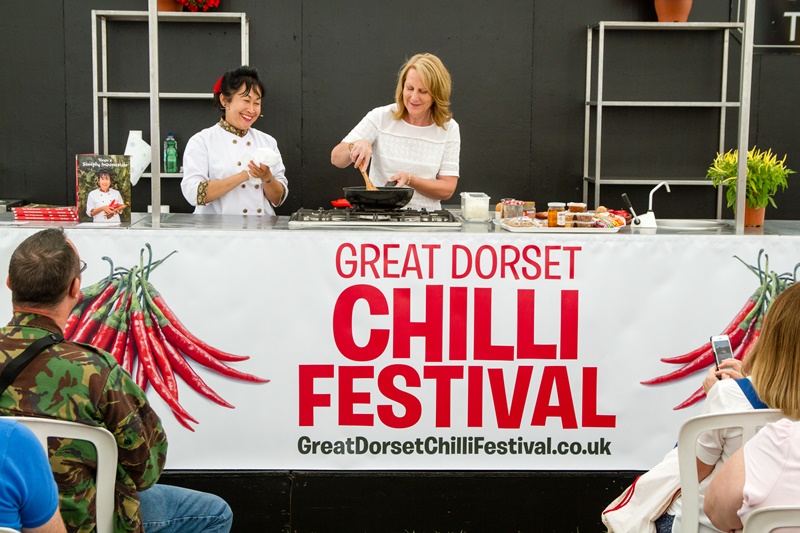 Talks and Cooking Demonstrations
We have a variety of 'cooking with chilli demonstrations' from some of our local leading chefs such as Masterchef 2009 Mat Follas, well-known Dorset chef Mark Hartstone and Indian-recipe expert Sarah Ali Choudhury. If chilli-growing is your thing, then don't miss the talks by our chilli experts
Cooking demonstrations are brought to us by top local chefs. See programme.
Music
This is a specialist food festival, not a music festival! But if you like a bit of music in the background we have some great acts. To celebrate the 50th anniversary of the Woodstock music festival we are delighted to welcome Creedence Clearwater Review on Saturday, plus local legends the Mother Ukers. On Sunday we have The Orange Circus (Celtic/bluegrass/alt-country) and TexMex tequila rock and boogie band Snake Oil. Also for your listening pleasure (where they heck did that phrase come from?!) we have the famous Mexican Mariachi trio, guaranteed to put a smile on your face, and Big Joe Bone playing his blues/roots/bluegrass beside the cider tent all weekend.
Frequently asked questions:

When does the festival open and close?
Gates open at 10am on both days with last entry at 4.30pm. The postcode for St Giles Park, Wimborne St Giles is BH21 5ND. Please follow festival road signs that will direct you to the festival car parks.
Is there any public transport?
Unfortunately not. This is a rural location with a small population and it is not served by bus routes.
Can I bring my dog to the festival?
Friendly dogs are welcome at the festival providing they are kept on a lead and are well behaved. Please do not leave your dog in your car for any reason. Should your dog constantly bark or anyone any other festival goers you will be asked to leave.
Can I pay by credit or debit card at the festival?
No, credit card or cash machine facilities are not available at the site. Please bring cash with you as there are no cash points in the near vicinity.
Is camping available?
There is no public camping on site. Please see the below links for some local accommodation sites you could try for availability, as well as some local taxi companies.
Great Dorset Chilli Festival - Accommodation Options
Great Dorset Chilli Festival - Local Taxi Companies
Is there disabled parking?
Yes disabled parking is available. Please note that there is a walk from the car park to the admissions tent and then a further walk to the festival showground over level ground, but it is a field so might be a little bumpy. The whole festival site is on uneven grass parkland.
Are there disabled facilities?
Yes we provide disabled toilet facilities.

Is there a reduced rate for disabled people?
The Great Dorset Chilli Festival does not wish to discriminate against visitors with disabilities therefore the full admission rate will be charged.



Programme Of Events
2019 EVENT PROGRAMME
Saturday
10:00
Gates Open
Voting for the chilli sauce competition commences
10:00
Entries taken for chilli plant & pepper competition
11:00
Cook-off starts: chile verde
11:15
Talk on chillies:

11:15
Music tent: The Mother Ukers

12:00
Cooking Demo: Mark Hartstone, La Fosse

12:30
Music: The Mother Ukers

13:15
Cooking Demo: Grace Ekall - chillies for health

13:45
Music tent: Creedence Clearwater Review

14:15
Chilli Talk:

14:30
Falconry Flying Display
15:00
Chilli Talk:

Cook-off: chile verde turn-in
15:00
Music: Creedence Clearwater Review

15:30
Chilli Plant & Pepper competition judging
16:00
Chilli Eating competition
16:00
Chilli Plant and chilli sauce winners announced
17:00
Cook-off: chef's choice turn-in
Sunday
10:00
Gates Open
Voting for the Chilli condiment competition commences
11:15
Music: The Orange Circus

Cooking demo: Mat Follas, Masterchef 2009
11:30
Chilli cook-off competition begins
12:00
Chilli talk:

12:30
Music: Snake Oil Band

13:00
Cooking demo: Sarah Ali Choudhury
13:45
Music: The Orange Circus

14:00
Cooking demo: Mark Hartstone, La Fosse
14:30
Falconry Flying Display on the lawn
15:00
Music: Snake Oil Band

15:00
Chilli Talk:

15:30
Chilli cook-off competition judging
16:00
Winners of cook-off and chilli condiment competition announced
16:00
Chilli Eating competition.
Please note that final programme is subject to change.